Episode 041:
Annuities Part 2 - Because Some Is Never Enough!
Listen to this episode using your favorite podcast app!
Don't see your favorite app above? No problem! Open your favorite podcast app and search for Retirement Equals Freedom. We'll be there!
New to the world of podcasts?
We put together a short video walking you through how to easily find our podcast! Click the button below and the video will pop-up.
What is Episode 041 All About?
Sometimes investment decisions (like saving for retirement) are black and white. No nuance or downsides.
But when it comes to annuities, there are shades of grey that The Retirement Equals Freedom Podcast is here to help you understand.
On this second of two parts, Host Josh Bretl shares FSR Wealth Strategies' take on when, how and why certain annuities can make the perfect fit for clients whose portfolios need rounding out.
You'll learn about various types of vehicles to consider, what makes them appealing and potential pitfalls to avoid.
Get to know the difference between immediate and deferred annuities and what distinguishes "protected income" buckets from "growth" buckets (from buckets of "fried chicken," if – like Co-Host Dave Schmidt – you choose to go there!).
You'll also find out why Fixed Index Annuities have a lot to offer as a steady stream of low-risk income.
If you've ever been intimidated (or put off) by the world of annuities, this is your invitation to take stock (on your own or with the help of a financial adviser) to determine whether they might make a good addition to your growing retirement nest egg.
If you missed Part I of this series, click this link to listen to Episode 40, "What's Annuities Got to Do With It?"
Have you checked out our archive? Get one-click access to all our Retirement Equals Freedom episodes on your favorite streaming platform at this pod link resource.
If you haven't already, please sign up for all the news you can use (+ lots of fun) below for the Retirement Equals Freedom podcast newsletter. You might also want to join the conversation at our private Facebook group, which you'll find here.
Click here to explore the services that FSR Wealth Strategies offers and schedule a discovery call with Josh. When it comes to living your best life, it's never too early to get started!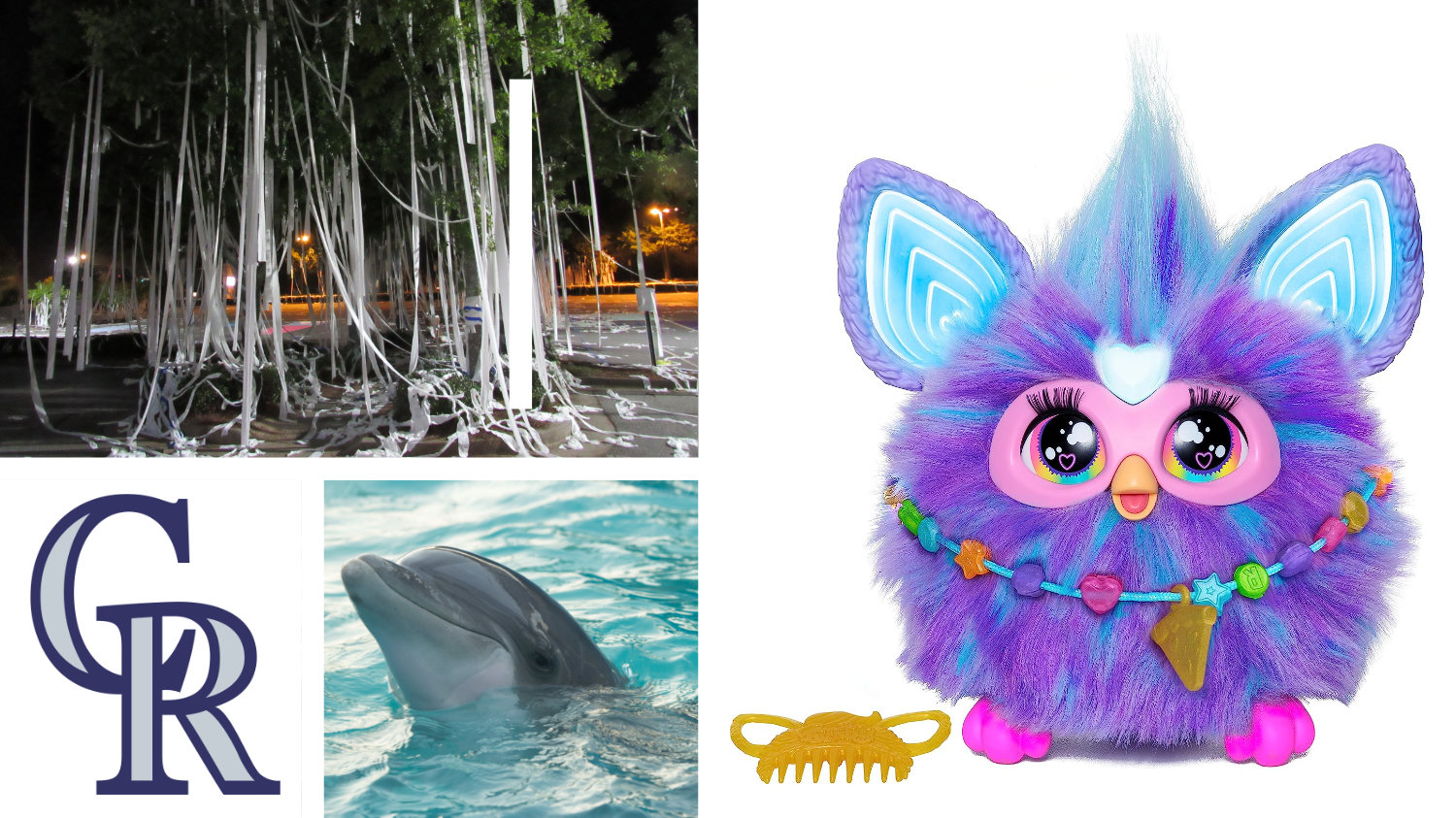 TPC. Rockies. Dolphins. Furby.
Hot Takes:
Josh is giddy, in part because of barrel-aged cold brew from Stan's Donuts.
Dave's son Landon is on the mound for his baseball team's championship game!
Summit County, Colorado: Be Warned! The Schmidt family vacation is about to get under way.
He (or it?) is baaack. Don't miss this important update about the revival of our favorite furry toy friend, the inimitable and strangely compelling Furby!
The latest on Zach's latest, (not so) greatest pair of glasses.
All about why the FSR Wealth dumpster is full of left-footed shoes!
Pt. I of "All About Annuities" (Episode 40, which you can find here) focused primarily on some of their shortcomings, misperceptions and downsides.
Pt. II takes a closer look at what annuities have to offer.
Defining the word "annuity": A stream of payments – which can also include steady payments from sources like Social Security or a pension.
Types of Annuities:
Immediate Annuity: Insurance companies take an upfront lump sum that is paid back in regular installments over time … a good plan if you're fortunate enough to live a long time!
Deferred Annuity: An investment vehicle that grows money over time, after which the funds can be withdrawn as a stream or in a lump sum.
Where the Confusion Starts: People get confused by the myriad options within the "Deferred Annuity" category.
Different Types of Deferred Annuities:
Fixed Annuity: Essentially a CD with an insurance company (rather than a bank) that offers a (generally slightly higher) rate of return, deferred taxes and no fees.
Variable Annuity: The rate is tied to a stock market index, sort of similar to a mutual fund. The risk lies with the investor and fees/commissions are higher (in some cases incentivizing shady sales tactics).
Fixed Index Annuity: Instead of a set rate of return, earnings are tied to a stock index. The funds are committed for an extended period of time, but this type of investment offers upside potential without downside risk.
How Josh deploys Fixed Index Annuities for his clients:
As a low-volatility asset that offers a reliable, protective income bucket over time.
As a "permission slip" whose steady income stream frees up other money for slightly riskier, longer-term investments.
As a bond alternative in a climate where interest rates aren't favorable.
As principle protection: A safe, reliable investment that is transferrable.
As a guaranteed income tool that can include long-term care features.
Is a Fixed Index Annuity right for you? It's all about assessing (on your own or with the help of a financial adviser) your individual investment profile and needs.
It's Time! Let's Get to Know Josh & Dave (and their new blue jay sound effect): What is one thing that you are super-excited to do on vacation?
For Dave, it's all about going to a Colorado Rockies game with his son Landon (along a bunch of extended Schmidt family members) and boating on Lake Dillon near Breckenridge.
For Josh, revisiting (and swimming with) the dolphins in the Bahamas, especially since Alex is older and now ready to (literally) dive in!
DR2R: The way Dave and his TPC (Toilet Paper Clan) used to blow off steam after a tough basketball loss by TPing the homes of innocent people is not unlike annuities – serving a very specific purpose for them but not necessarily the best interests of others.
"We promised Part II, and today is Part II of annuities, Baby!" ~Josh
"There is no such thing as an inherently good or inherently bad investment vehicle." ~Josh
"If you have heard bad things about annuities, this is where it's come from. Because there are a lot of people that loved these variable annuities because they would pay a higher commission than just using mutual funds ... and that's where the start of the really shady sales processes comes from." ~Josh
"We use (Fixed Index Annuities) a lot because it allows us the chance to have some decent growth and not have the risk associated with different investments and downsides." ~Josh
"These Fixed Index Annuities have been a godsend for a lot of clients and their portfolios. But you have to think about it a little differently. It's not a stock market tool. It is designed as a low-risk, bond alternative." ~Josh
"If you already know that the asset you're spending is an annuity and can't lose money, then you have this permission slip to let the rest of your money grow." ~Josh
"We never admitted guilt to it but there was a high-speed car chase in my Chevy Cavalier … We'd even go so far as to spell out TPC in toilet paper on the sidewalk. We had our signature and everything!" ~Dave
A certified public accountant, Josh Bretl has spent the past two decades growing FSR Wealth Strategies into a firm that specializes in tax-focused retirement planning. Because taxes have the single biggest impact on how much you can spend in retirement, Josh is dedicated to developing individualized financial plans that extend and grow his clients' retirement savings. Based in Elmhurst, Illinois, FSR Wealth strategically preserves and maximizes resources through tax-efficient strategies designed to fulfill retirement dreams.
Apart from producing and co-hosting The Retirement Equals Freedom Podcast, Josh's longtime friend Dave Schmidt is marketing director at FSR. He's also a content provider and marketing adviser to local businesses and nonprofits. He's also an advocate for t-shirts, all things 90s (especially the music), short walks and long naps.
Standard Disclaimer:
FSR Wealth Management is a registered investment advisor located in Elmhurst, Illinois. Information and opinions contained in this audio have been arrived at by FSR Wealth advisors. All information herein is for informational purposes and should not be construed as investment advice. It does not constitute an offer, a solicitation or recommendation to purchase any security. FSR is not providing legal, tax, accounting, or financial planning advice in this audio. These views are as of the date of this publication and are subject to change.
Be the First to Know About New Episodes!
We'll email you every Thursday afternoon with details on the new episode! We're also thinking of producing exclusive content just for our podcast email club. You definitely don't want to miss out!
"*" indicates required fields