Episode 040:
What's Annuities Got to Do With It? – Pt. I

Listen to this episode using your favorite podcast app!
Don't see your favorite app above? No problem! Open your favorite podcast app and search for Retirement Equals Freedom. We'll be there!
New to the world of podcasts?
We put together a short video walking you through how to easily find our podcast! Click the button below and the video will pop-up.
What is Episode 040 All About?
Annuities! For years now they've been dissed, maligned and misunderstood … which is why we're setting the record straight on this episode of Retirement Equals Freedom.
Host Josh Bretl, founder of FSR Wealth Strategies, explains why this particular investment vehicle has gotten a bad rap (Co-Host Dave Schmidt can relate) and how to educate ourselves on the facts.
As always, it comes down to taking a holistic look at your financial snapshot, including timelines, mix of investments and overall goals.
Sure. When it comes to annuities, there are some very real downsides. But in addition to outlining those, Josh is also helping us get clear about the fact that it's not a black and white situation.
Or, to put it another way, as our host warns: "If you ever think something is always good, no matter what, you've got a problem. And if you think something is bad, no matter what, you've got a problem."
This episode will help anyone who has shut the door on annuities to reconsider them as an investment option – one featuring growth as well as safety.
If you're intrigued and want to know more, join us for an upcoming Part II that will take a closer look at what annuities offer, how they work and whether they might be just what you need to round out and grow your retirement nest egg.
Trigger Warning: If you're partial to water chestnuts or have ever worked at a fast-food drive-thru window, the views expressed by your co-hosts may be upsetting.
Have you checked out our archive? Get one-click access to all our Retirement Equals Freedom episodes on your favorite streaming platform at this pod link resource.
If you haven't already, please sign up for all the news you can use (+ lots of fun) below for the Retirement Equals Freedom podcast newsletter. You might also want to join the conversation at our private Facebook group, which you'll find here.
Click here to explore the services that FSR Wealth Strategies offers and schedule a discovery call with Josh. When it comes to living your best life, it's never too early to get started!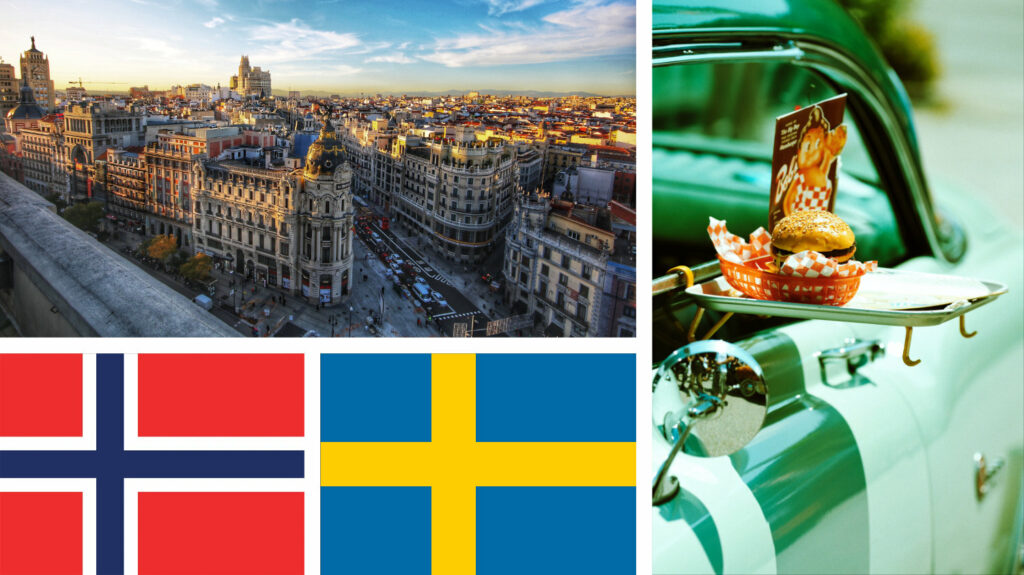 Spain. Sweden or Norway? Drive thru shenanigans.
Catching Up:
Unseasonably chapped lips.
Zach's cool new glasses (in signature orange).
Dave's no-good-very-bad-rained-out birthday plan to see a Chicago Dogs minor league baseball game. Chin up. Josh WILL take you for a do-over!
The latest on Cowboy Mike from Colorado.
More about Josh's SF family vacay, including hiking, trying new foods in Chinatown and an epic visit to Alcatraz, aka "The Rock."
Dave's bad hair day and exciting plans for a trim!
The Topic of the Day: Annuities! (And why the show hasn't highlighted any one financial product or vehicle – until now.)
Why annuities have to be considered holistically based on an individual or couple's total financial portfolio, timeline and goals.
A Look at the Downsides of Annuities:
Illiquid Asst: Money is tied up (at minimum) three years.
Nuanced Vehicle: There's a lot of complexity to understand and untangle.
High Fees: Variable annuities built around mutual funds created in the 80s gave annuities a bad rap. (Fixed annuities are a different story!)
Misleading Sales Practices: In some instances, there are high up-front commissions paid to salespeople who will sell you "at all cost."
Tax Implications: Rates and impacts of distributions require planning.
The Top Three Things We Look for When Investing:
Whether annuities make a good fit within your retirement planning picture depends on your specific situation – the how's and why's!
Let's Take a Break! Get to Know Josh & Dave: If money were no object, where in the world would you like to fly off to and visit tomorrow?
For Dave, it would have to be Sweden, land of his ancestral people, his cultural heritage … er … or not exactly. Stay tuned for a clarification.
For Josh, Spain would be the destination for a food-lovers' tour of delights!
DR2R: Misunderstood and subject to undue abuse! That's annuities – like the unfortunate Wendy's drive-thru employees who had to put up with the "hilarious" prank orders Dave's high school buddy used to place. Those fast-food workers were misinformed and treated unfairly – much like annuities have been!
Stay Tuned for Pt. II: In which Josh takes a deeper diver into the specific benefits and "need to knows" related to different types of annuities and how they can work for you.
"You know us Americans. We watch a few episodes of Yellowstone and start drinking a little bit of Bourbon and we think we're cowboys!" ~Dave
"There are three things in life that cheer me up: Pizza, family and Retirement Equals Freedom podcast recording!" ~Dave
"People who only mention the wonders of a product – they're salespeople. It gives our whole industry a bad name." ~Josh
"(Annuities) are one of those weird vehicles that trigger in some people this response that is unnatural." ~Josh
"I am of the belief that no single investment or product where you could put your money is always good or always bad." ~Josh
"If you ever think something is always good, no matter what, you've got a problem. And if you think something is bad, no matter what, you've got a problem." ~Josh
"Just because something is complex doesn't mean it shouldn't be applied to your situation." ~Josh
"I don't think annuities are bad … Nothing is inherently good or bad at all times, but it matters how it applies to your situation." ~Josh
A certified public accountant, Josh Bretl has spent the past two decades growing FSR Wealth Strategies into a firm that specializes in tax-focused retirement planning. Because taxes have the single biggest impact on how much you can spend in retirement, Josh is dedicated to developing individualized financial plans that extend and grow his clients' retirement savings. Based in Elmhurst, Illinois, FSR Wealth strategically preserves and maximizes resources through tax-efficient strategies designed to fulfill retirement dreams.
Apart from producing and co-hosting The Retirement Equals Freedom Podcast, Josh's longtime friend Dave Schmidt is marketing director at FSR. He's also a content provider and marketing adviser to local businesses and nonprofits. He's also an advocate for t-shirts, all things 90s (especially the music), short walks and long naps.
Standard Disclaimer:
FSR Wealth Management is a registered investment advisor located in Elmhurst, Illinois. Information and opinions contained in this audio have been arrived at by FSR Wealth advisors. All information herein is for informational purposes and should not be construed as investment advice. It does not constitute an offer, a solicitation or recommendation to purchase any security. FSR is not providing legal, tax, accounting, or financial planning advice in this audio. These views are as of the date of this publication and are subject to change.
Be the First to Know About New Episodes!
We'll email you every Thursday afternoon with details on the new episode! We're also thinking of producing exclusive content just for our podcast email club. You definitely don't want to miss out!
"*" indicates required fields