Episode 005:
You Get to Decide How Much Taxes to Pay in Retirement!
Listen to the audio version
What is Episode 005 All About?
Are you ready for fun with taxes? No joke! This episode of The Retirement Equals Freedom Podcast features Host Josh Bretl, CPA and founder of FSR Wealth Strategies, debriefing us not only on why savvy tax strategy is important but how – when done right – it can be turned into a kind of game.
The winners wind up handing less of their hard-earned savings over to the government in retirement. And who doesn't want to keep more money on tap for that bucket list?
Following on previous episodes that gave the high-level on income/expenses and investments, this is an introduction to the general landscape of taxes and policy changes that lay head. (Hint: Taxes invariably go up, not down).
This episode may not be a huge barrel of laughs, but Josh promises Dave that fun (lots!) and laughter (tons!) will ensue as we get deeper into the nuances of retirement tax planning strategy.
It's kind of like Hasbro's Game of Life, except without the car tokens and fake money. And pay close attention this episode, as The Dave wears a Comfy in which he may or may not bear a resemblance to Chewbacca.
Click here if you'd like to learn more about or listen to previous episodes of the Retirement Equals Freedom Podcast.
Click here to explore the services that FSR Wealth Strategies offers and schedule a discovery call with one of the team's CPAs. When it comes to living your best life, it's never too early to get started!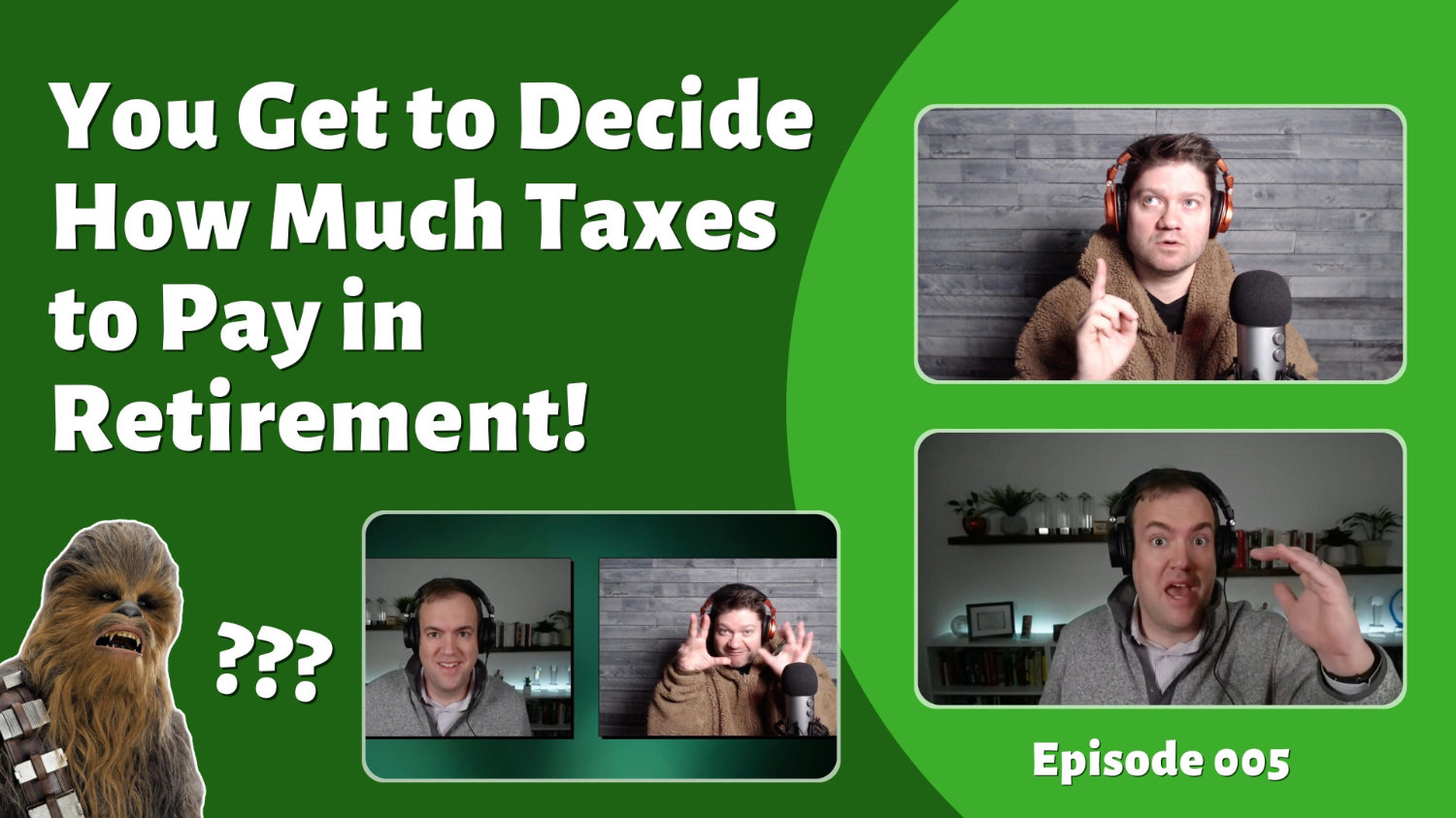 About "Daddy Tax" — The Next Generation: Josh gets rolling with an anecdote about his seven-year-old son's desire to learn about taxes (what?) and how his own dad cleverly got the concept across back when Josh was a kid.
Dave follows on the "Daddy Tax" idea with a brief history of a similar tax he has been paying since the early days of dating his then-girlfriend (now-wife) Carla — owing to her priceless awesome superiority!
Recapping what (besides colorful life stories and food nostalgia) has been covered in previous podcasts:
Income and expenses
Investments
Retirement Bucket No. III: Taxes (on income as opposed to property or sales).
When you're a W-2 employee there's little control over earning and taxation.
In retirement, the timing and allocation of investment and savings withdrawals is up to you – which (if you're on top of it) requires strategic decision-making.
Pensions were common in all walks of life through the 1970s but in more recent decades have been phased out of almost all employment sectors. As a result the government has substituted retirement savings vehicles like 401k plans and IRAs.
Taxes are only going up – which is why it's important to figure out the best possible ways in which to maximize earnings and minimize the chunk assessed by federal and state governments. The longer you wait to come up with a plan, the harder it becomes.
Hat Tip to Phil, an old friend who warned Dave and Josh at a potluck 14 years ago that losing weight would only get harder as the years went by. Uh, he was right.
Outlook 2026: Pre-emptive strategizing now can and will save you tax dollars later.
When it comes to estate planning, are you telling yourself that you'll just leave it to the kids to figure out? In his experience Josh has found that's often just a default when the topic feels too dense and intimidating. But there's help – and things that you can do!
You may not know about tax planning now, but it's something even Dave can learn – as we will demonstrate in real time as future episodes unfold!
Self-education is great and there are lots of tools (which Josh will highlight on upcoming shows), but it's wisest first to consult and level-set with a trusted advisor.
Just Joshing: Dave claps back on another dis to his wardrobe choices. Co-hosts have feelings too. Just sayin' …
Josh apologies if this intro to tax planning for retirement was "kind of downerish." He swears that taxes are fun. Stay tuned for future episodes. You be the judge!
"Taxes are the third area that as retirees people need to think about and take into consideration. It's not the most fun thing to talk about … but I can actually make taxes fun and entertaining in a way that people can understand what the heck is going on." ~Josh
"In retirement, you are deciding how much to spend and where the money is coming from. So you in essence get to decide how much taxes you're going to pay. To a lot of people that's a very weird concept." ~Josh
"I want to educate people about what I think is a really financial planning important topic – the one no one is actually talking about – which is how taxes relate to retirement." ~Josh
"There's a certain kind of tax out there that you're going to have to pay no matter what, so you might as well pay it as cheaply as humanly possible." ~Josh
"There's no 100% right answer … People have different (tax) situations and paths that they've walked in life. So it's really where you've come from and want to go." ~Josh
"If you want to subscribe to this podcast and hear Josh make fun of me, please do so. And next week Josh will introduce his new podcast host: The Wall. 'Cause no one wants to do it with him!" ~ Dave
A certified public accountant, Josh Bretl has spent the past two decades growing FSR Wealth Strategies into a firm that specializes in tax-focused retirement planning. Because taxes have the single biggest impact on how much you can spend in retirement, Josh is dedicated to developing individualized financial plans that extend and grow his clients' retirement savings. Based in Elmhurst, Illinois, FSR Wealth strategically preserves and maximizes resources through tax-efficient strategies designed to fulfill retirement dreams.
Apart from producing and co-hosting The Retirement Equals Freedom Podcast, Josh's longtime friend Dave Schmidt is marketing director at FSR. He's also a content provider and marketing adviser to local businesses and nonprofits. He's also an advocate for t-shirts, all things 90s (especially the music), short walks and long naps.
Standard Disclaimer:
FSR Wealth Management is a registered investment advisor located in Elmhurst, Illinois. Information and opinions contained in this audio have been arrived at by FSR Wealth advisors. All information herein is for informational purposes and should not be construed as investment advice. It does not constitute an offer, a solicitation or recommendation to purchase any security. FSR is not providing legal, tax, accounting, or financial planning advice in this audio. These views are as of the date of this publication and are subject to change.
Be the First to Know About New Episodes!
We'll email you every Thursday afternoon with details on the new episode! We're also thinking of producing exclusive content just for our podcast email club. You definitely don't want to miss out!
"*" indicates required fields