Episode 023:
What are Some Bond Alternatives?
Listen to this episode using your favorite podcast app!
Don't see your favorite app above? No problem! Open your favorite podcast app and search for Retirement Equals Freedom. We'll be there!
New to the world of podcasts?
We put together a short video walking you through how to easily find our podcast! Click the button below and the video will pop-up.
If you've been impatiently waiting for another installment in Host Josh Bretl's compelling tutorial about all things bonds, then this episode of The Retirement Equals Freedom Podcast is for you!
In addition to recapping how today's bond market differs from what we've seen over the past 40 years, Josh is explaining everything you need to know about alternative investments, the bases these investments should ideally cover (risk reduction and a decent rate of return) and some of the specific vehicles you might want to explore (Christmas wreaths are not among them).
The guys also give a shout-out to educators who inspired and shaped them and the edgy senior project Co-Host Dave Schmidt produced while in art school – including a secret blooper reel featuring Josh that might somehow find its way into the public domain. So sit tight and enjoy this roller coaster of a bond ride. And, no, we're not talking 007. (Sorry. Too tempting to resist.)
Are you ready to chat with Josh? You can schedule your complimentary 15-minute checkup call at the bottom of the podcast homepage.
Brew your own Cometeer Coffee at home with $25 off your first order: Just click here!
Click here to learn more about or listen to previous episodes of The Retirement Equals Freedom Podcast.
Don't miss out on the show's exciting weekly email, which you can subscribe to at this link. And if you feel like chatting, join the lively conversation at our private Facebook group, which you can find here.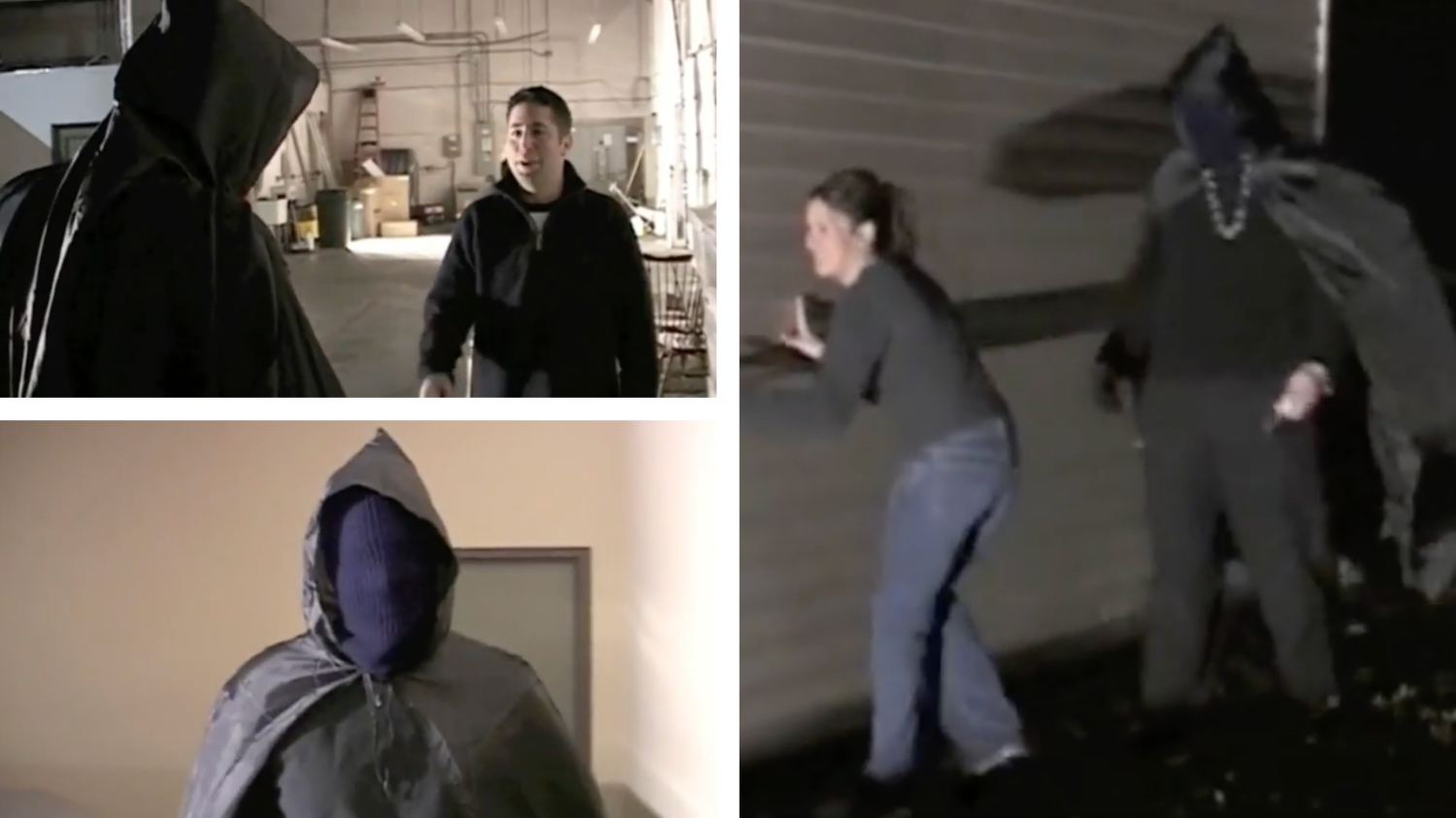 Josh in his cool cape & mask in Dave's student film, The Empty
Josh has become such a titan of the podcast industry that he is now mentoring fellow hosts, like Jeff Mauro of The Come On Over Podcast – a dream assignment for this self-professed "Food Network dork"!
Worthy Goal: Don't forget that after one of their episodes hits 500 downloads, Josh and Dave have vowed to host a R=F live episode.
Coach Josh: Why our intrepid host is stepping onto the soccer field to inspire his son Alex and the rest of the team. Dave's wife Carla coaches their kids, as well.
Recapping Bonds 101 and their two major components:
Downside protection – a hedge when the market goes down.
Reliable growth and rate of return.
For the last 40 years, interest rates have been falling. But of late we're seeing them rise, which makes for a less attractive bond investment environment.
Because interest rates are still low, it's the worst of all worlds: An erosion in bond value without significant returns in the form of interest.
Two criteria to consider when exploring bond alternatives:
Does it include Risk Reduction?
Does it offer a decent return on investment?
Josh details some of the options he and his clients look at for their portfolios:
Cash – Good for at least a portion. It protects on the downside, but right now it's paying virtually zero interest so only covers one of the two basic criteria.
CDs – A common alternative, but currently paying very little interest – under 3.5% for money tied up anywhere from one to five years.
Non-traditional Investments: They don't correlate to the stock indexes and also check the risk reduction and return rate boxes. The downside? There is some market and liquidity risk. Not for everyone, but good for some!
About Non-Traditional Bond Alternatives:
REITs – Real Estate Investment Trust
Precious metals (like gold and silver)
Private equity
Hedge funds
Buffer ETFs (a hedge that requires doing some homework)
Annuities (again, not for everybody but can be a nice option)
Why annuities have gotten some bad PR:
Some have really high fees.
There have been some sketchy sales people.
Stay tuned for an episode that does a deeper dive into annuities.
Get to Know Josh & Dave (queue the jingle – and pray it doesn't get stuck in your head):
Question: Did you have a favorite teacher or a teacher who made a big impact on your life?

Dave: His high school Coach Jim Prunty, who was inducted into The Basketball Museum of Illinois in 2010. He "got" Dave and just a great all-around fit!
Josh: His kindergarten teacher Mrs. (Trilby) Porter, who recently passed away after a long and celebrated teaching career. She was special.
Dave Relates to Retirees: While studying at the Illinois Institute of Art, where it was "hard not to get A's," Dave got creative and went beyond his assigned senior project by producing a film featuring his gang. The end result was … terrible! But they did come away with a GREAT blooper reel (stay tuned for the link)! Bond alternatives, like Dave's ambitious filmmaking, fulfill the desire to mix in a little something different!
Stay tuned for future episodes that will have you on the edge of your seat! Subjects like:
All about annuities.
End-of-year tax and investment planning.
A celebrity (TBD and loosely defined) interview.
Josh's Homework Assignment: Look at your portfolio and if you have any significant portion invested in bonds, it's time to talk to your adviser! Or reach out to Josh and book a free 15-minute consultation at this link.
"If you give me any food cooking competition … I will watch any food competition." ~Josh
"What's really cool is that today and today alone, we had two separate people come to your office asking me to brew them a Cometeer Coffee!" ~Dave
"The problem with bonds is that they operate in what we call an inverse relationship to interest rates. So as interest rates fall, bond prices rise." ~Josh.
"We're losing some of the downside protection and we also still have ultra, ultra-low interest rates, so they're not paying much interest. You could deal with not getting much interest when we weren't worried about the values falling out from beneath of us, but now we kind of have this worst of all worlds." ~Josh
"(The glassy eyes) are just because I stayed up too late last night celebrating the Buffalo Bills' first victory of the season." ~Dave
"A correlation is how tied to an index an investment is … and what we look for is as close to a zero correlation as we can get." ~Josh
"The Retirement Equals Freedom Podcast is in the S&P2!" ~Dave
"I feel like in a few years we'll be able to put (bonds) back into portfolios like we normally would, but it's been fun to look and utilize different alternatives. It make managing someone's assets not just cookie-cutter." ~Josh
"Our industry has some shady people in it so you just want to be cognizant of why you're doing things and the purpose behind them." ~Josh
"My relationship with teachers was a bit rocky at times." ~Dave
"We talked about how REITs are not Christmas wreaths. We talked about alternative investments and you learned that the Retirement Equals Freedom podcast has a 4:1 correlation in the S&P2!" ~Dave
A certified public accountant, Josh Bretl has spent the past two decades growing FSR Wealth Strategies into a firm that specializes in tax-focused retirement planning. Because taxes have the single biggest impact on how much you can spend in retirement, Josh is dedicated to developing individualized financial plans that extend and grow his clients' retirement savings. Based in Elmhurst, Illinois, FSR Wealth strategically preserves and maximizes resources through tax-efficient strategies designed to fulfill retirement dreams.
Apart from producing and co-hosting The Retirement = Freedom Podcast, Josh's longtime friend Dave Schmidt is a content production and marketing adviser to local businesses and nonprofits. He's also an advocate for t-shirts, all things 90s (especially the music), short walks and long naps. A serial "wallet forgetter," Dave nonetheless swears that he has picked up the check on at least one or two meals with Josh over the years. Evidence pending.
Standard Disclaimer:
FSR Wealth Management is a registered investment advisor located in Elmhurst, Illinois. Information and opinions contained in this audio have been arrived at by FSR Wealth advisors. All information herein is for informational purposes and should not be construed as investment advice. It does not constitute an offer, a solicitation or recommendation to purchase any security. FSR is not providing legal, tax, accounting, or financial planning advice in this audio. These views are as of the date of this publication and are subject to change.
Be the First to Know About New Episodes!
We'll email you every Thursday afternoon with details on the new episode! We're also thinking of producing exclusive content just for our podcast email club. You definitely don't want to miss out!
"*" indicates required fields